Spread the love Share Now
WE HAVE HUNDREDS OF CBT QUESTIONS IN THE MOBILE APP FOR FREE.
DO MORE WITH THE APP, YOU EARN AS YOU ANSWER QUESTIONS, REFFER.
GET THE APP AND CONTINUE TO LEARN FROM WHERE YOU STOP ON THE WEBSITE. CLICK HERE TO DOWNLOAD THE APP ON PLAYSTORE OR CLICK ON THE IMAGE BELOW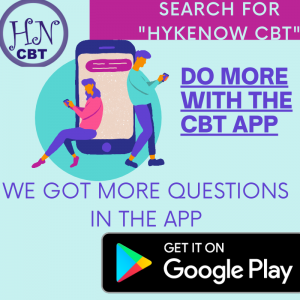 My name is Emmanuel aka Hyke i love it when student are happy with their results… and i wish one day you will also serve your country at the right time… share our website so other student around Nigeria can take part.